Looters violate coffin for jewels
This article appeared in the Daventry Weekly Express in 1952, and tells of how the vault was broken into and a coffin desecrated, presumably in search of valuables. There is no information on whether those responsible were found. Read below for a full transcript of the article.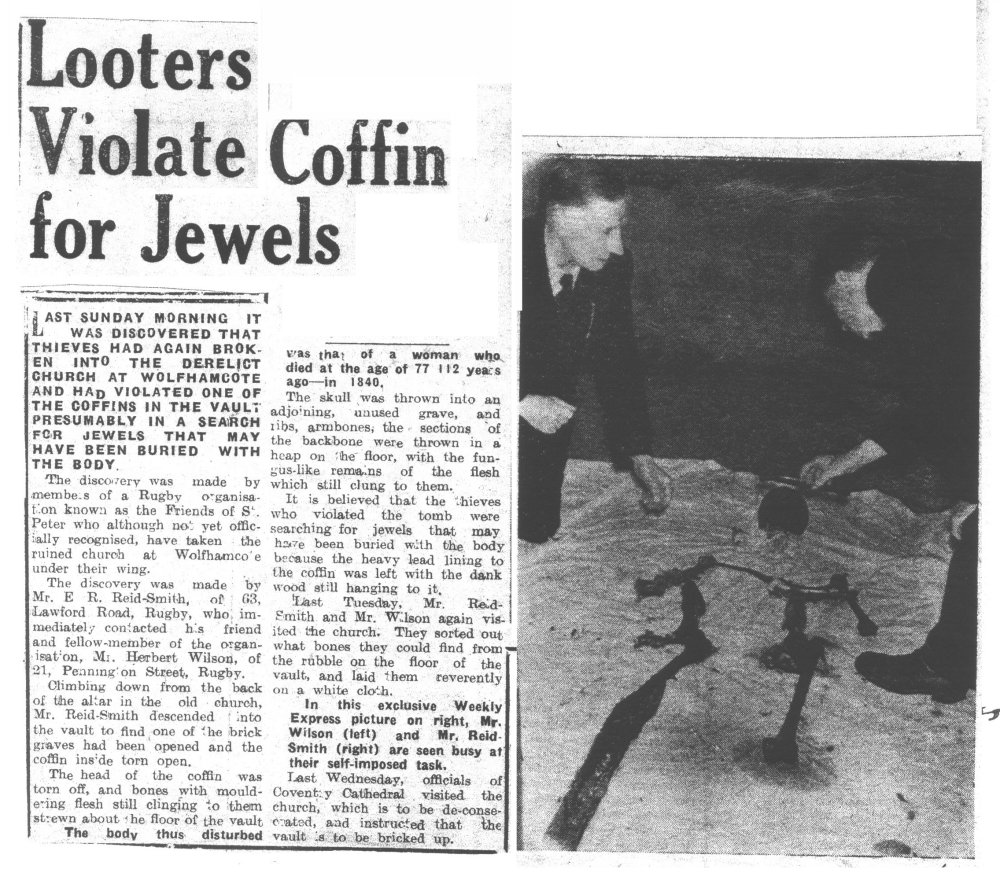 Last Sunday morning it was discovered that thieves had broken into the derelict church at Wolfhamcote and had violated one of the coffins in the vault, presumably in search for jewels that may have been buried with the body.
The discovery was made by members of a Rugby organisation known as the Friends of St. Peter who although not yet officially recognised, have taken the ruined church at Wolfhamcote under their wing.
The discovery was made by Mr. E R. Reid-Smith, of 63, Lawford Road, Rugby, who immediately contacted his friend and fellow-member of the organisation, Mr. Herbert Wilson, of 21, Pennigton Street, Rugby.
Climbing down from the back of the altar in the old church, Mr. Reid-Smith descended into the vault to find one of the brick graves had been opened and the coffin inside torn open.
The head of the coffin was torn off, and bones with mouldering flesh still clinging to them strewn about the floor of the vault.
The body thus disturbed was that of a woman who died at the age of 77 112 years ago – in 1840.
The skull was thrown into an adjoining, unused grave, and ribs, armbones, the sections of the backbone were thrown in a heap on the floor, with the fungus-like remains of the flesh which still clung to them.
It is believed that the thieves who violated the tomb were searching for jewels that may have been buried with the body because the heavy lead lining to the coffin was left with the dank wood still handing to it.
Last Tuesday, Mr Reid-Smith and Mr. Wilson again visited the church. they sorted out what bones they could find from the rubble on the floor of the vault, and laid them reverently on a white cloth.
In this exclusive Weekly Express picture on right, Mr Wilson (left) and Mr. Reid-Smith (right) are seen busy at their self-imposed task.
Last Wednesday, officials of Coventry Cathedral visited the church, which is to be de-consecrated, and instructed that the vault is to be bricked up.
The above is a transcription of the article which appeared in the Daventry Weekly Express.