Braunstonbury is a deserted medieval village, moat and fishpond which lies next to Wolfhampcote. You will walk thorough it on the way to the church, if walking from the A45. It is the settlement shown next to the Fishpond on the map below.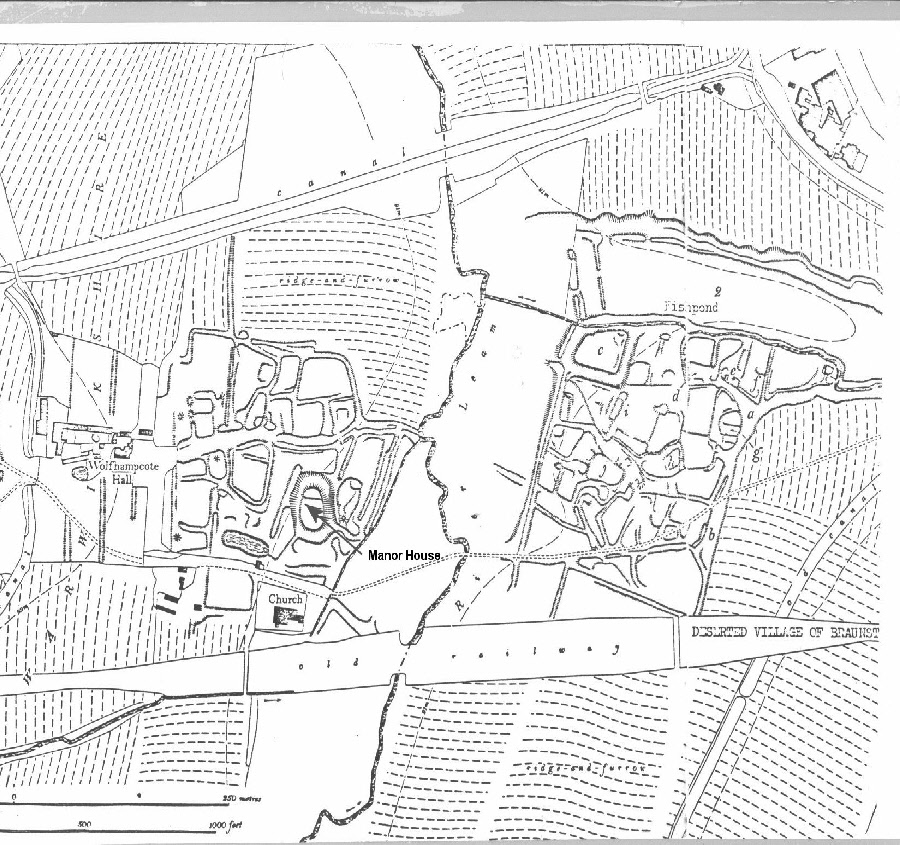 The village of Braunstonbury includes a moated site, as does Wolfhampcote, but also a large manorial fishpond.
Banks and ditches up to 1m high indicate the location of hollow ways and tracks which ran through the village, and raised rectangular areas beside the tracks are the sites of building platforms.
A hollow way 1m deep runs from the north east of the site towards the south and two village greens lie beside this roadway. On the western edge of the village, just to the south of the moat, the outline of a small building with two rooms can be seen. A depression to the south of this building platform is probably the site of a crew yard, for keeping animals. The site lies in an area called Chapel Field and probably refers to a chapel which lay close to the manor house.
The moated site covers an area about 75m x 60m and lies in the north west corner of the deserted medieval village. The four sided moat island is of irregular shape and is completely surrounded by a ditch. The moat may be the site of the manor house of the village, or a homestead farm.
To the north of the moated site and the village, in an area called Fish Weir Field, is an extremely large fishpond, of which the banks still stand up to 2m high. The fishpond is about 420m long and 88m wide, and is connected to the moated site by a water channel. At present a stream runs east from the River Leam between the moat and the fishpond, and this originally supplied the water system for the ponds and moat.
The whole site is surrounded by the ridge and furrow field system which completes the medieval landscape.
The village was a manor which belonged to Lilleshall Abbey in Shropshire, and was still tenanted in 1421. At the Dissolution these lands were sold to the Earl of Rutland.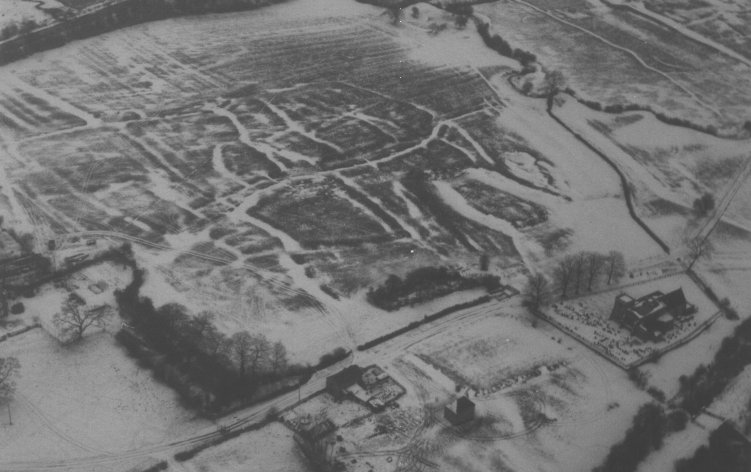 Historic England
Braunstonbury was first listed as a 'Scheduled Monument' in 1967 as an important historic site.
Information source: Historic England
Sources: Books and journals
Allison, K J, Beresford, M W, Hurst, J G, The Deserted Villages of Northamptonshire, (1966), 36
Beresford, M W, St Joseph, J K S, Medieval England: An Aerial Survey, (1979), 126-7